Lavender Sugar Cookies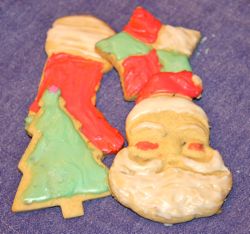 This recipe comes from Denise (Jackson) Dailey.
Ingredients
Instructions

Frosting

6 tablespoons milk
6 tablespoons butter
1 teaspoon vanilla
3 cups powdered sugar

Frosting

Mix.
Divide into three parts, and add different food coloring to each part.

Cookies

1 1/2 cups butter
2 cups sugar
4 eggs
2 tablespoons lavender blossoms
2 teaspoons salt
2 teaspoons baking powder
5 1/2 cups flour

Cookies

Cream butter and sugar.
Blend in eggs and lavender blossoms.
Add salt and baking powder.
Add flour.
Chill dough for 1 to 2 hours.


Roll out to 1/8 inch thick, and cut into shapes.
Bake at 400 for 6 to 8 minutes, or until lightly browned.
Let cool.


Frost using paint brushes, thinning frosting as necessary.